A tour accomplished by The Minister Raed Khoury to the markets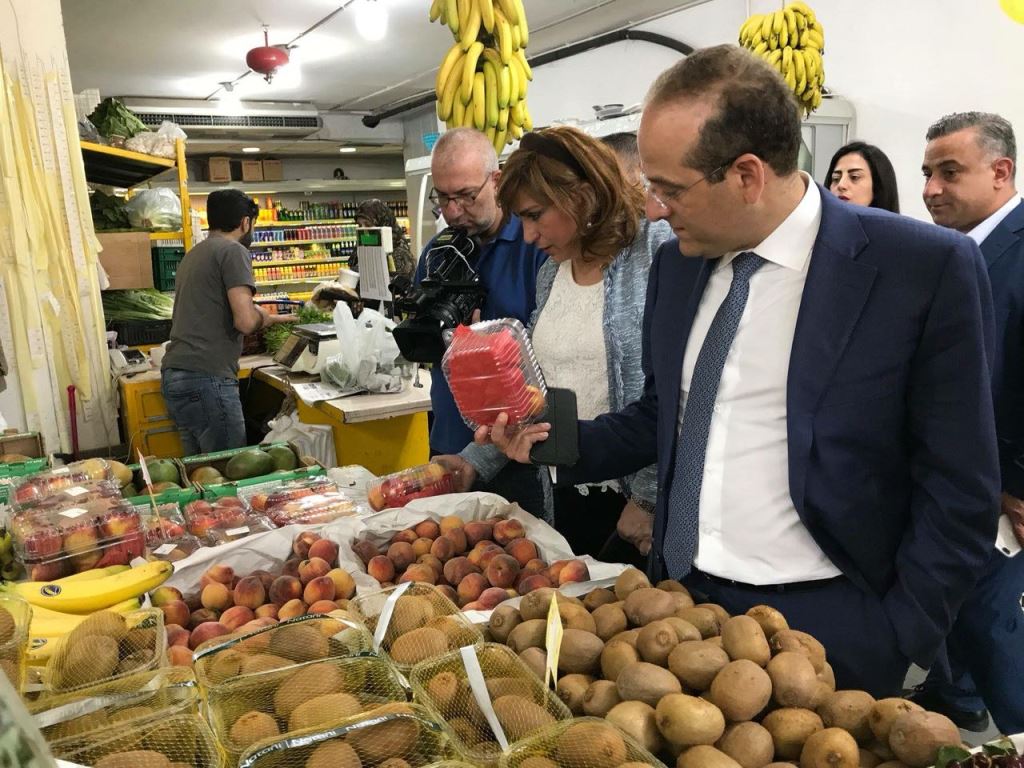 Minister of Economy and Trade Raed Khoury made a tour of the markets accompanied by the Director General of Economy & Trade , Mrs. Alia Abbas and the inspectors of the Directorate. The tour included markets located in Mazraa, Chiah, Aicha Bakkar and Ras El Nabeh where inspectors made violation minutes in terms of concealing prices and weights.
For this purpose, Minister Khoury assured to the citizens that the Ministry of Economy and Trade is continuously controlling the markets whereof inspectors of the Consumer Protection Directorate execute inspection patrols to make sure traders comply with the applicable regulations and laws.
At the end of the tour, Minister Khoury declared: We reassure the lebanese citizens that prices are controlled in a continuous and permanent manner; that is why we made this tour with the Ministry's inspectors accompanied by the Director General to address two messages. The first one consists in reassuring the Lebanese that the Ministry is always present and fulfills its duties to the fullest while the second message tackles the traders who manipulate the market prices. Consequently, we assure that we will do our work to the fullest extent possible even if the current government is a caretaker one. On the contrary, we will tighten controls on this issue and warn the traders from any manipulation in weights and prices.
Furthermore, he added: Prices are permanently controlled and we maintain a weekly price index for all goods. The Ministry organizes daily effective control inspections where laws that set the allowed profitability ratios are complied with, upon which profit cannot exceed the cost. In addition, we concentrate on the prices differences; if any, the Ministry will conduct the necessary investigations to show the truth.
To this regard, Minister Khoury stressed on some matters that protect the sectors of Industry and National Agriculture requiring customs protection. To this end, it is estimated that the Council of Ministers will approve adequate proceedings in order to protect the national production.
Moreover, Minister Khoury urged the lebanese citizens by informing the Ministry about any violations in order to pursuit the offenders.
At the end, Minister Khoury confirmed that inspectors had reported violations and made adequate violations proceedings in terms of weights, prices concealing and manipulation as well as food safety irregularities. This is a clear message to prevent the traders from manipulating the citizens' rights, adding that this tour will be followed by efficient and deterrent steps and measures to report any violations during the holy month of Ramadan.