Minister Raed Khoury representing the President of the Lebanese Republic in the final day of the Kuwait International Conference for the Reconstruction of Iraq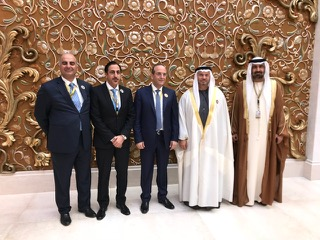 Minister of Economy and Trade Raed Khoury took part in the final day of the Kuwait International Conference for the Reconstruction of Iraq representing the President of the Lebanese Republic with the participation of 62 States and 16 international and regional organizations.
Minister Khoury stressed in his speech on the necessity to develop the Iraqi economy in all its productive sectors by implementing administrative and financial reforms and boosting the cooperation between the public and private sectors. He said: "the opportunities of developing and enhancing the cooperation between the economies of the Arab countries on the political, economic and social levels are nowadays indispensable more than any time. It is noteworthy the weak trade exchange between the Arab countries not to mention the weakness of the bilateral Arabic investments. In fact, I strongly believe that the absence of any joint development strategy for the Arab countries is the major reason that mainly lead to the decrease of the joint projects.
For this purpose, special focus should be given to sectors and opportunities that support the Arab Economic Integration project whereof the Arab region is desperately in need to integration and cooperation in order to reconcile the concepts, regulations and laws as well as to narrow the divergencies and transform them into integration opportunities and added values.
Furthermore, Minister Khoury expressed his gratitude to the European Union, the United Nations and the World Bank for their permanent support to the Arab countries; and wished that the Kuwaiti initiative be crowned with success for further Arabic solidarity.
At the margin of the conference, Minister Raed Khoury met with the Japanese Ambassador in Kuwait, the Saudi Foreign Affairs Minister Adel Al Jubeir, the Iranian Foreign Affairs Minister Mohammad Javad Zarif, Minister of State for Foreign Affairs at the United Arab Emirates Anwar Gargash and the Secretary-General of the Arab League Ahmad Abou El Gheyt.
Furthermore, he also met with the Director of the Kuwait Fund for Arab Economic Development, Mr. Abdel Wahab Ahmad Bader and discussed the possibilities of cooperation between the two countries in addition to the Kuwait Fund project to finance the grain silos at the Beirut port as well as the active role that Lebanon will play in the coming period during the Syrian reconstruction process. Minister Khoury also discussed the economic plan of the lebanese government and the consultative role of MacKenzie Company.
Minister Khoury was accompanied by the Chargé d'Affaires of the Lebanese Embassy in Kuwait, Mr. Maher Kheir, the Vice President of the delegation Mrs. Nesrine Bou Karam and the Counselor of the Prime Minister for the development affairs, Eng. Fadi Fawaz.