Minister of Economy and Trade Raed Khoury opened a training course for the economic attaches appointed by the Ministry of Foreign Affairs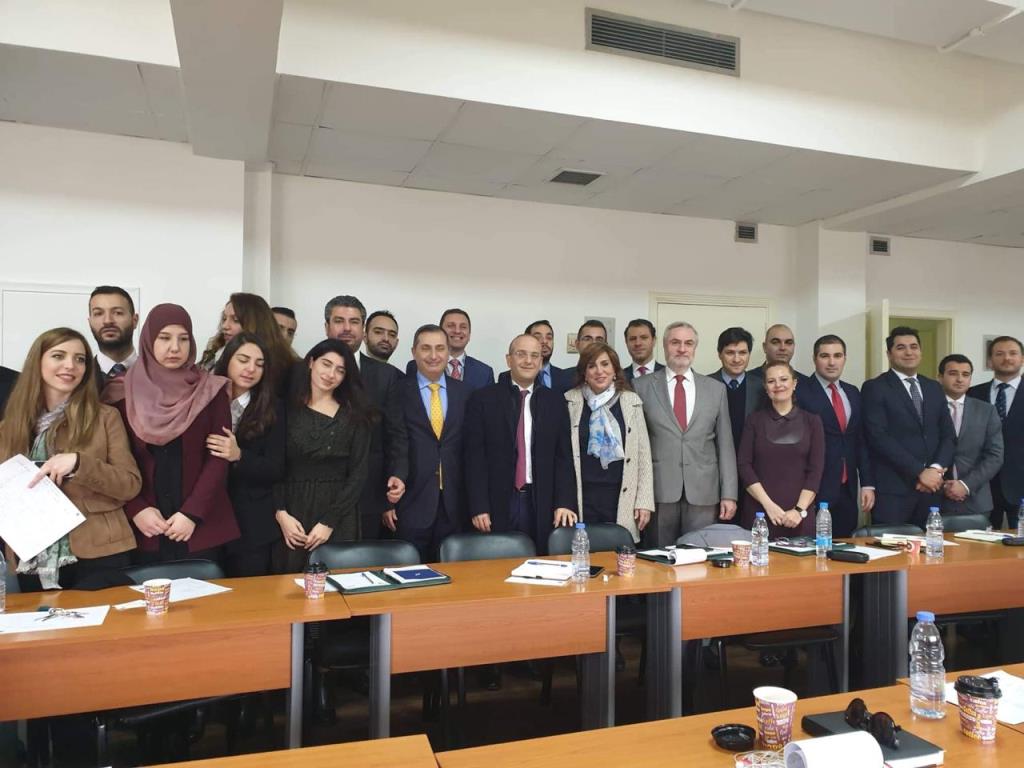 At the beginning the Lebanese Anthem was played, then Minister Raed Khoury asked the economic attaches to introduce themselves.
In this regard, Minister Raed Khoury declared: "After hearing about your university degrees and the education level that qualify you to fulfill your mission, especially that most of you had acquired the necessary experience in the field of banking and finance. In this occasion, let me congratulate you for being nominated to accomplish these tasks in order to rescue our economy. You are the flesh blood coming from a private sector background and entering the public sector. This does not mean that the public sector is not efficient but, in my opinion, the combination of both the concept and culture between these two sectors will constitute an added value that you can benefit from during your work at the embassies, ministries and in the private sector where you are assigned to".
Minister Khoury added: "Although Lebanon is a small country, its power does not consist in its size nor it geographical location nor its economy, however its secret lies in its diaspora where lebanese are widespread all over the world. You have two main missions: Trade and investment. First, the trade has many facets for success in Lebanon either through marketing or by reconsidering the agreements or signing new ones with new countries. Our focus should be on the unknown countries in Europe or Africa upon mutual need. In addition, trade will go in parallel with the economic policy of Lebanon in order to encourage the industry, agriculture and lebanese production through adopting a marketing general policy. To this purpose, cooperation is required between you and the Ministry of Economy and Trade as well as all the concerned ministries by organizing a workshop through which we can increase our productivity. You should have also access to the economic plan that the Cabinet tasked McKinsey & Company with forming the plan, to be considered the lebanese economic policy and adopted by the coming Cabinet. This plan is based upon the economic structure of the product' force which encompasses details that we have to abide by and move forward at the same pace because this workshop is very large. If we succeed we would have then a strong economy without any help from outside."
Minister Khoury added: "As for the investment, our country is a small country but it enjoys a special location in the region. There are many Lebanese living abroad where some of them are still attached to their home country. We should benefit from this attachment in the field of investment and learn how to exploit it by means of bank deposits, public-private partnership in ready -made projects, available and new industries, etc. Your job is to attract investments and persuade the investor to enter into huge projects that ensure job opportunities which is definitely a hard task; especially that the capital is known for being coward. Although your mission is hard still, it is very significant to rescue Lebanon and boost its economy."
At the end, Minister Khoury concluded: " I am totally aware that your experiences, qualifications and your cooperation with the concerned ministries will lead you to success. It is important to hold periodic meetings or maintain permanent communication. The most important thing is to enter and access new markets for Lebanon and coordinate with the concerned ministries. You will have my support whether I will remain a Minister or no."
Afterwards, a discussion took place during which Minister Khoury answered the questions of the 20 economic attaches.