We used to be called the grain silos of Rome
We used to be called the grain silos of Rome and we are aiming for a self sustainable Lebanon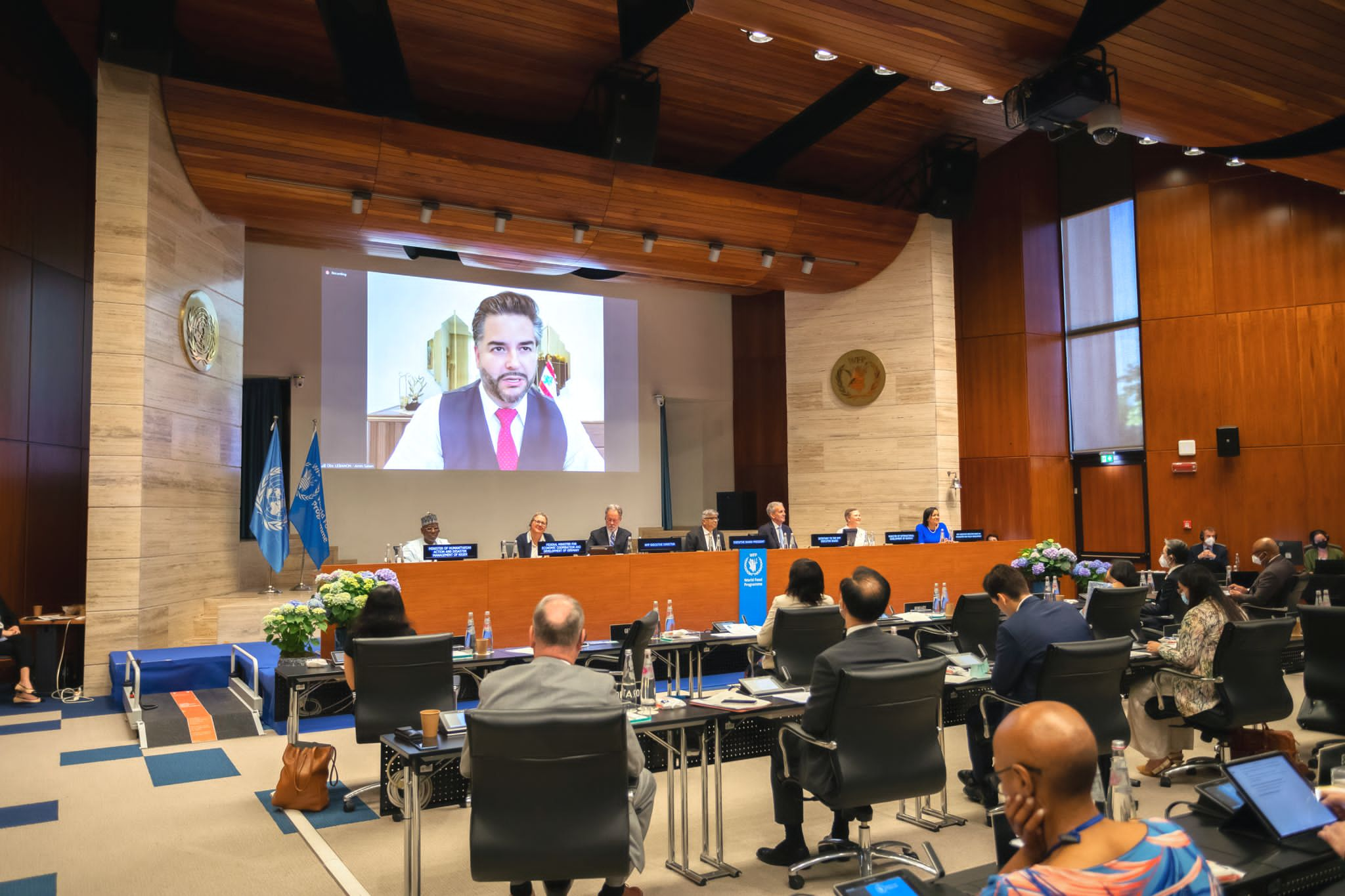 Salam from the WFP Headquarters Rome " Lebanon's food security pillars are advanced agricultural revolution, strategic national reserves and water. We used to be called the grain silos of Rome and we are aiming for a self sustainable Lebanon."
Minister of Economy and Trade, Amin Salam who is also the President of the Food Security Ministerial Committee was invited to the Annual session of the WFP Executive Board to participate at high-level panel titled Implementation of the humanitarian-development-peace nexus at the country level.
Participants at the high-level panel included:
- H.E. Svenja Schulze, Federal Minister for Economic Cooperation and Development of Germany;
- His Excellency Amin Salam, Minister of Economy and Trade of Lebanon (connected remotely)
- Mr. David Beasley, United Nations World Food Programme Executive Director;
- H.E. Md. Shameem Ahsan, President of the WFP Executive Board 2022; - H.E. Anne Beathe Tvinnereim, Minister of International Development of Norway;
- Ms. Valerie Guarnieri, United Nations World Food Programme Assistant Executive Director;
- H.E. Laouan Magagi, Minister of Humanitarian Action and Disaster Management of Niger;
Minister Salam's statement:

Excellencies, Ladies and Gentlemen,
Thank you for the opportunity to be here with you today to share with you the current situation in Lebanon which as you all know is getting worse by the day.
Almost three years into the economic crisis, Lebanon still faces serious challenges for recovery. Real GDP continues to decline after a brutal drop of 30% in 2021 (World Bank 2022 report). The sharp decline in economic activity, coupled with the spread of the COVID-19 pandemic and rising inflation, has pushed thousands of Lebanese households into poverty and unemployment. Nearly 82% of the population live in multidimensional poverty, experiencing deprivation in at least one of six poverty dimensions: education, health, public utilities, housing, assets and property, employment, and income (ESCWA 2021). In addition to rising poverty, the heavily indebted country that has long been struggling with structural macroeconomic anomalies and persistent political instability is now haunted by the sinister memories of the "great famine" of 1915-1918. Concerns about food and nutrition insecurity are intensifying at both the national and sub-national levels, as the main food security indicators started to follow an alarming trajectory, placing the country in the top 20 acute hunger hotspots and number 1 in the ME according to FAO and WFP (2021).
A powerful explosion at the Beirut Port on August 4, 2020, left Lebanon, already facing an unrelenting torrent of crises, with a serious humanitarian crisis. The explosion claimed more than 200 lives, more than 6500 injured, and left over 300,000 Lebanese homeless. The international community rushed immediately to provide humanitarian aid. The Reform, Reconstruction and Recovery Framework (known as 3RF) represents the first operational plan through which the UN implements the Humanitarian-Development-Peace (HDP) nexus. Based on the Beirut Rapid Damage and Needs Assessment conducted in August 2020, through a joint initiative of the World Bank Group (WBG), in cooperation with the United Nations (UN) and the European Union (EU), it was estimated that damages ranged between $3.8 and $4.6 billion USD and losses ranged between $2.9 and $3.5 billion USD.
In this context, it is important to recall that the main grain silos in Lebanon were destroyed by the Beirut port explosion. These silos were made out of concrete and had a capacity of 125,000 metric tons, equally divided between wheat and corn (and barley), and could store up to 35 days' worth of wheat reserves for emergencies. The European Bank for Reconstruction and Development (EBRD) has just completed a feasibility study for the construction of new steel silos and a storage warehouse in Tripoli with a total capacity of 110,000 metric tons. Having multiple storage sites will help minimize risks going forward. However, given the urgency of the situation, the Lebanese Agricultural Research Institute's (LARI) empty warehouse in Tal Amara in Bekaa can be used in the meantime. It can accommodate 40,000 to 50,000 metric tons, though at a higher cost.

Multiple other factors and variables have contributed to the growing food insecurity in the country, some of which are not new, nor the byproduct of the crisis. However, to better comprehend these factors and address them, it's essential to set the conceptual framework of food security.
Food security exists when "all people, at all times, have physical, social and economic access to sufficient, safe and nutritious food which meets their dietary needs and food preferences for an active and healthy life" (FAO 1996). Thus, food security requires, simultaneously food availability, food access, proper utilization, and stability or consistency in these components.
From a food availability perspective, the main indicators remain relatively alarming. The fragility of the situation is worrying knowing that Lebanon is a net importer of food, and dollar reserves for imports have been dwindling. Food imports have decreased in volume and diversity (WFP 2021), and the average dietary energy supply, while still adequate, has started to show a downward trend. The country is beginning to experience shortages in wheat and other key staples, maintaining adequate stocks is highly challenging for several reasons.
First, food consumption is heavily dependent on imports, with cereals topping the food categories most consumed through imports (ESCWA 2016). Bread and cereals constitute 35% to 39% of daily energy and intake, making their availability crucial to household survival. Traditionally, around 96% of key cereals, mainly wheat, have been sourced, either from Russia or Ukraine (MoET 2022), thus contributing to price fluctuations. As the Russian-Ukraine war continues to exert pressure on the international prices of these commodities and their availability, they become more expensive and difficult to secure. The wheat stock-to-use ratio is relatively low, and so is the level of strategic reserves, with the volume of wheat stock available barely covering a month of consumption. In May 2022, the World Bank approved an emergency loan of $150 million for food security and to finance wheat imports, however, this is pending the approval of the new parliament and serves for only 7-9 months.
Second, the oligopolistic nature of the Lebanese food imports market and the food system, in general, tends to benefit few actors, increasing their control over prices and available supplies and stocks (FAO, European Union, CIRAD 2022). This impacts both the availability of food supplies and their stability.
In terms of local production, farmers—particularly small-holders who constitute the majority of farmers in Lebanon—have been experiencing difficulties accessing agricultural inputs (seeds, fertilizers, pesticides, and fuel). The majority of these inputs are imported, and thus are priced in dollars, while the sale of most agricultural products is in the local currency. Consequently, the ability of these farmers to sustain their activities has been severely weakened, not to mention that the majority of farmers lack the cash required to purchase these inputs, as the conventional seasonal credit offered by input traders is no longer available (FAO, European Union, CIRAD 2022).
Multilateral funding sources through UN programs and bilateral funding through country embassies have been available to assist small-scale farmers, food producers, and other local private initiatives through international NGOs, active local NGOs, and sometimes ministries. Moreover, the past two years have witnessed increased cash-for-work modalities, technical training, and in-kind assistance. While many of these programs have been successful in providing short-term relief and support to their beneficiaries, they fared poorly in creating a macro-level impact.
The reasons are numerous, some of which are:
1) the absence of a comprehensive plan to direct and coordinate such activities and to create longer-term synergies to sustain their impact, and 2) the weak monitoring process on the ground.
From a food access perspective, the situation is more alarming with the soaring food prices domestically and globally. According to the Lebanese Central Administration of Statistics, the consumer price index increased by 208% between March 2021 and March 2022, while food prices increased by 390.3% over the same period (CAS 2022). These prices are projected to increase even further with the rapid devaluation of the local currency and the surge in international prices of fuel and imported food staples, due to the repercussions of the Russian-Ukrainian war. As early as 2020, ESCWA warned that by the end of the year, 50 percent of the population might be at risk of failing to access basic food needs.
The triple-digit inflation has eroded consumer purchasing power. In fact, since October 2019, the cost of the survival minimal expenditure basket has already increased by 557% (WFP 2021).
Today, more than 50% of Lebanese households have been experiencing food shortages, and a comparable share has been resorting to negative coping mechanisms varying from borrowing, skipping meals, compromising on the quality of food consumed, selling assets, or even sacrificing other areas of the budget, such as schooling or healthcare, to mitigate the impact of the crisis. Reports by UNICEF repeatedly warned about the fast-changing food consumption patterns and the risks associated with the observed coping mechanisms.
The "Surviving Without Basics" report (UNICEF 2021), which was based on rapid assessments conducted in April 2021 and repeated in October 2021, revealed that 53% of households have at least one child skipping meals, compared to 37% in April of the same year, with 30.6% of these households reducing expenditures on education. A more recent report noted that more than 50% of households were unable to get their medications, and 34% of children lacked access to primary healthcare. Moreover, the report pointed to an alarming pattern of increasing anemia among mothers and children under five, due to malnutrition (UNICEF 2022).
Need for immediate action:
The deterioration of macroeconomic conditions has been rapid and brutal, while the response of successive governments has been slow and inadequate. Given the current conditions, and in the absence of a comprehensive economic plan for recovery, the menace of food insecurity is likely to grow in scale and severity. Thus, there is a pressing need for government to prioritize food security and take immediate action to prevent hunger build a safety net program through a long-term comprehensive plan aimed at strengthening all food security pillars with the support of the international community prioritizing sustainable solutions such as supporting farming and farmers in the land that used to historically be called the "Grain Silos of Rome" I am all hope that with the government's commitment and the support of the international community we can get Lebanon back to be major agricultural player in the region and a self sustainable market.